Christmas is just around the corner. I'm very excited to celebrate Christmas this year because my son can now hum some Christmas songs. Since I'm talking about the merriest season of the year here let me tell you something naturally fun stuff for the holiday season. Makeups! 'Tis the season to be jolly and with makeup I'm sure something glittery and shimmering will bring happiness to makeup lovers out there particularly with eyeshadows! Do you love wearing bright and colorful eyeshadows but doesn't have the courage to show 'em? Are you afraid that glittery eyeshadow can cause allergic reactions or can't easily be removed by makeup removers? Why not try mineral makeup :D
Last November 16 (Friday), I was invited to the bloggers launch of Virginia Olsen Minerals FANTASY Holiday Collection. I'm happy that I made it to this event because this was the first mineral makeup that I'll be featuring in my blog or should I say my first venture to the whole line of mineral makeup to be exact.
So let me share with you my experience with Virgina Olsen- The naturally fun stuff!
Virginia Olsen Minerals (VOM) is 100% pure natural mineral makeup--paraben free, bismuth & talc free, which is suitable for women of any age, ethnicity or skin type. Our formulations are calming to the skin, making VOM ideal for women prone to sensitivities; and being fragrance-free, they are particularly compatible with delicate skin--giving a sheer, natural, and flawless coverage.
VOM is pure and natural. Containing nothing but minerals extracted and refined from the Earth. It's free of harsh chemicals, waxes, oils, preservatives, and fillers. Mineral makeup is non-comedogenic, and hypo-allergenic. Mineral makeup contains powerful sun blocking minerals, titanium dioxide and zinc oxide. These two ingredients provide natural broad-spectrum UVA, UVB and URA ray protection.
Let's now go on and be mesmerized with the shades of eyeshadow from the FANTASY Holiday Collection. If you're an avid reader of my blog I'm sure you know that I'm just starting my love for eye makeup. Take a look of these gorgeous shades, the photo doesn't give justice to the true color. Well, I'm happy to announce that this was my first time to swatch mineral eye shadow and it's awesome!
Virginia Olsen Minerals Fantasy Holiday Collection
Virginia Olsen Minerals Fantasy Holiday Collection
Lovely shades to sport this season (L-R): Lover's Moon, Moonlight Star, Kryptonite, Stardust, Crescent Moon and Tinkerbelle
These colors were truly fantasy inspired! Since I still consider myself newbie when it comes to eye shadows, I chose these colors that will gave my eyes the subtle color. I made a swatch on my faves: Stardust and Moonlight Star but the former is now ultimate fave because I can use it to highlight the corners of my eyes and for the sheer glow that I want with my eyelids.
Virginia Olsen Minerals Fantasy Holiday Collection
Stardust and Moonlight Star
Virginia Olsen Minerals Fantasy Holiday Collection
Stardust is Love!
There's a lot of reason why mineral makeup afficionados should try Virginia Olsen. They also have foundation, blush, makeup tools and eyelash enhancer. To tell you honestly, I got samples of mineral makeup before but got dismayed because they only have three shades of foundation to choose from but with Virgina Olsen, it's not 3 or 4 but read: 10!!! Isn't that amazing? I know choosing the right shade of foundation is very tricky so if they have 10, then there's a perfect match for everybody :D
Virginia Olsen Minerals Fantasy Holiday Collection
Yay! The more, the merrier
Aside from these, they also have the Green Tea Mineral Makeup Line which is formulated using the nourishing, toning, healing and skin protecting ingredients: green tea leaves, zinc oxide, plus rice & bamboo silks—which come from the buds of the rice and bamboo plant. It is combined with cranberry powder for flavonoid and antioxidant properties. My apologies because I accidentally deleted the photo of these babies but you can browse them through Virginia Olsen Minerals Website for more info by clicking HERE
I also made a swatch of their blushes. They'll be introducing more blush next year and that's what we're excited for. Please bear with me, this is the way how I swatch blushes :p It hardly shows up on my skin that's why I have to make it wide and more than once.
Virginia Olsen Minerals Fantasy Holiday Collection
Terra Cotta, Blushing Pink and Romance
Virginia Olsen Minerals Fantasy Holiday Collection
L- Adobe R- Terra Cotta
Application of mineral makeup is such a breeze if you have the right tools! Even though I'm not an expert, I can feel the softness of their brushes and the natural bamboo handle adds a plus for me :D Talk about nature here, going green it is!
Virginia Olsen Minerals Fantasy Holiday Collection
Kabuki Brush that's uber soft!
Virginia Olsen Beauty Tools are made from premium-grade materials, which can be used with wet or dry products. The synthetic bristles are hypo-allergenic and safe for delicate complexions. The sleek ferrules are made from recycled aluminum. The natural bamboo handle has a low impact on the Earth's resources as it is a highly sustainable plant. Each brush has been designed with the right density to create flawless, natural finish in every makeup application.
• Total Face Brush – Php 500.00
• Blush/Contour Brush – Php 450.00
• Concealer Brush – Php 350.00
• Eyeshadow Brush – Php 300.00
• Blending Brush – Php 350.00
• Angled Eyeliner/Brow Brush – Php 280.00
• Kabuki Brush – Php 600.00
Another product to watch out for is the Sophia Eyelash Enhancer that's exclusively distributed by Virginia Olsen. This is the answer to the thin and sparse lashes that most Asian women have including mine. See the pictures and be amazed with the results!
SOPHIA EYELASH ENHANCER
SOPHIA EYELASH ENHANCER
Left bottom: Wendy Tabusalla of Pinoy Big Brother
Right: Ana Victorino
After the presentation, bloggers were given Virgina Olsen goodies and a raffle draw where one can take home Sophia Eyelash Enhancer. The lucky girl was Joyce Sola! Hi there Joyce, if you're reading right now we'll be waiting for the results of Sophia on your lashes :D I had a great time exchanging stories and makeup experiences with the beauty bloggers that I met during the launch. Twas very nice seeing you girls!!!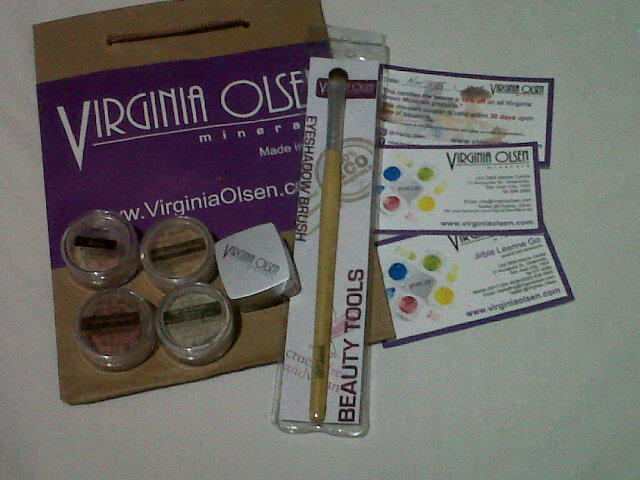 Virginia Olsen Minerals Fantasy Holiday Collection
Photo from twitter @Kathneko
Virginia Olsen Minerals Fantasy Holiday Collection
Joyce of CandyLoveArt, Sam of Dishysammy and Gem of Vanity and Everything in Between
Virginia Olsen Minerals Fantasy Holiday Collection
Photo from Virgina Olsen Facebook page
Moi, Hazel of Dress Me Up, Buttercup, Joyce, Sam and Gem
Virginia Olsen Minerals Fantasy Holiday Collection
Gem, Hazel, Moi, Sam, Ms. Jirbie Go (Marketing Manager of Virginia Olsen) and Joyce
Whew, this is a lengthy post dearies but really worth reading! Thank you so much Ms. Jirbie Go, Hazel Salcedo and the VO team for inviting me. Had so much fun and learned a lot from this wonderful launch. Stay tuned for my review on Virginia Olsen Minerals goodies! :)
For more updates and product information please visit the following sites:
Website: www.virginiaolsen.com
Twitter: http://twitter.com/Virginia_Olsen
Facebook: www.facebook.com/VirginiaOlsenMinerals